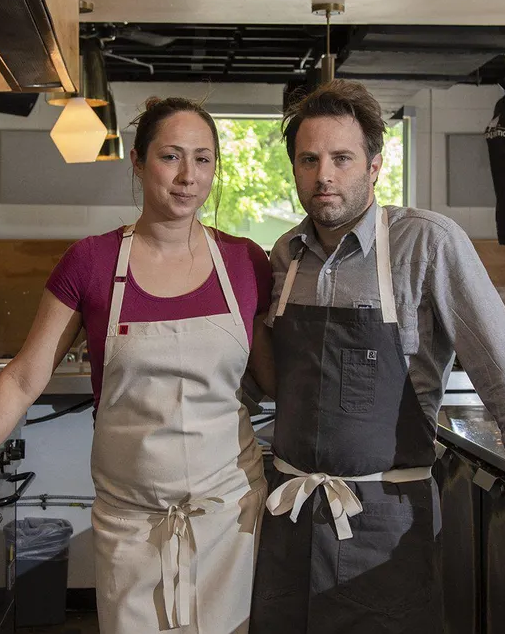 Sarah Heard & Nathan Lemley
Foreign & Domestic
Sarah Heard
Chef-Owner
Foreign & Domestic, Austin
Sarah Heard has a strong passion for food, starting with the dirt where the food was cultivated. She began cooking in Austin in 2007 & has held positions at The Mansion at Judges Hill, Parkside Projects, & La Condesa. She believes that integrity & respect for all parts of the process that bring food to your plate are essential to a good meal & to the guest experience. In 2017 Sarah & her partner, Nathan Lemley, purchased Foreign & Domestic in Austin. In 2020, the two opened Commerce Cafe, and in 2022 they opened Commerce Hall. The two are now focused on bold, cohesive flavors, adventurous wine, & pure hospitality. When she is not at work she is raising chickens, goats, & garden-ing on a small plot of land with her 11 year old daughter.
"We pride ourselves on taking the odd bits of the animal or plant, making them approachable, & focus-ing on executing them well so that when you do try them, it is a wonderful experience."
Nathan Lemley
Chef-Owner
Foreign & Domestic, Austin
Nathan Lemley traces his passion for making food back to his nightly family dinners as a child grow-ing up in Katy, Texas. Long before attending culinary school at The Art Institute of Houston, Nathan spent time watching his grandmother, who owned a bakery in Yoakum, Texas make cakes and pies.
After graduating from the Art Institute of Houston, Nathan continued to climb the ranks in several of the best restaurants in Houston, including Tony's, Voice, and Stella Sola. A few years into his career, he moved to Austin to take the position of Chef de Cuisine at the newly opened Foreign & Domestic. Three years late, he accepted the position of Executive Chef at downtown Austin restaurant, Parkside.