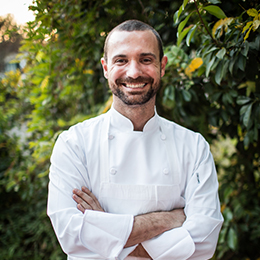 Shawn Cirkiel
Parkside Projects
Creativity and innovation in the kitchen have made Shawn Cirkiel one of Austin's most coveted chefs and restaurateurs. 8 years ago, Cirkiel opened parkside—the city's first gastro pub—to much fanfare. The accolades continue on for this sophisticated spot, which is housed in a converted two-story space on East Sixth Street, as they do for Cirkiel's subsequent ventures: the backspace, a widely popular Neapolitan-style pizzeria, olive & june, an updated version of family-style Southern Italian dining, and Bullfight, an authentic Spanish restaurant featuring a variety of small, shareable plates and wildly popular takes on Spanish tapas.
Cirkiel's passion for local and seasonal food extends beyond the scope of his restaurants and has become a driving force behind his notable community engagement. As a child growing up on a farm, Cirkiel learned early on the integral role fresh ingredients play in cooking. He took that core knowledge with him to the Culinary Institute of America, where he refined his skills and style and developed an even deeper appreciation for sustainable food. He soon moved to Napa Valley to work in the kitchen at the esteemed Domaine Chandon before landing a job at New York's Café Boulud. An entrepreneur by nature, Cirkiel moved to Austin to embark on his own endeavor: He took over as the owner/chef of the city's beloved Jean-Luc's Bistro, followed by a move to Uchi.
It didn't take long for devotees to realize Cirkiel was very talented. His success spilled over to parkside, the backspace, olive & june – named for his grandmother and his wife's grandmother, and Bullfight. Inspiration for the many classic Italian dishes at olive & june came from the family dinners Cirkiel enjoyed as a child in the Italian-American neighborhood of the South Bronx, where Cirkiel's father was raised. The vision for Bullfight came from Cirkiel's love affair with Spain, and represents his most passionate work yet – bringing ambitious, thoughtfully-modernized Spanish classics and a colorful mix of regional tastes and flavors to Airport Boulevard.
Cirkiel's devotion to smart (sustainable) cooking and the community is evident by his involvement in many projects, including an initiative at Austin's Highland Park Elementary, where he has helped develop healthy-eating, exercise, and gardening programs. Cirkiel is also a founding chef of the Sustainable Food Center's Farmers Market in downtown and a board member and secretary for the Sixth Street Austin Association, which has been fundamental in raising funds to restore the legendary district. And while the chef maintains a high profile around town and in the media—he's been noted in numerous publications, including Southern Living, Food Arts, Cooks Illustrated, Bon Appetit and the Los Angeles Times—Cirkiel doesn't stay out of the kitchen for long.